La personnalisation pour les événements ou pour toute autre création est possible. Un devis vous sera envoyé pour donner vie à votre souhait, unique et original.
Les Cake Topper sont l'accessoire idéal pour décorer un gâteau, et ce, pour n'importe quel événement (mariage, anniversaire, communion).
La base mesure entre 5 et 10 cm et les figurines entre 2 et 16 cm. Ils peuvent être personnalisables. En effet, les mariés vous ressembleront et vous aurez des pièces uniques.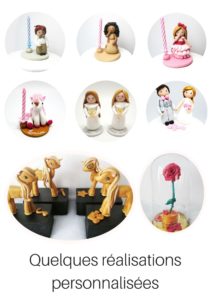 Cake toppers are a good idea to keep a souvenir of an  event (wedding, birth, birthday, baptism, etc.). The base measure between 5 and 16 cm and the dolls between 2 and 10 cm. All the cake topper can be personnalised.